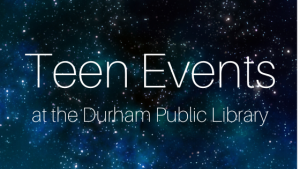 Summer 2021 Events
Pick-Up Activity Packets – For Teens!

Each month in the summer
For teens 12+
Pick up a kit with a packet of activities and supplies each month of Summer Reading, while supplies last! New kits will be released Mondays June 21, July 5, & August 2nd; and will be available for pick up at the Main Desk the entire month. Each one follows a different Tales & Tails theme.
Registration not required; first come, first served. Feel free to email the Youth Services department or call the library to ask that packets be put aside for you.
______________________________________________________________________________
Doodle Art
Tuesday, July 13 at 6pm , via Zoom.

For ages 11+.
Celebrate the art of the doodle with one of the most spectacular tails of all- the peacock tail! Join Calligrapher Debby Reelitz on Zoom as she talks with participants about patterns and how calligraphers use them. Participants will create some black and white doodle art following this year's Summer Reading theme- Tails & Tales! Materials will be provided.
Registration required. Register HERE.
______________________________________________________________________________
Make Your Own Fairy Dwelling
Add some magic to your garden with your very own Fairy House! Choose between two different projects- both options include all materials and easy to follow instructions, provided by The Florence Griswold Museum in Old Lyme, CT.
Option 1: Decorate a pre-built Fairy Teepee! Registration is required as materials are limited. These kits will be available to pick up between Tuesday July 6th & Saturday July 10th. This option is great as a group project for families with younger children!
Option 2: Build your very own Fairy House using sticks from your backyard! These kits will be available on a first come, first serve basis beginning Monday July 26th and remaining available for pick up until Saturday August 14th, or while supplies last. No registration is required, and is recommended for older children, teens or as a family group project.
Register HERE for Option 1.