Some programs require registration, so please check each program listing.
If you have any questions or comments please reach out to Lauren Redfield at lredfield@durhamlibrary.org, or give us a call at 860-740-4096.
---
JANUARY SPECIAL EVENTS
---
Sushi Making Workshop
Monday, January 27 at 5:00 PM
Join Mary Perrino, a Registered Dietitian, and learn how to make sushi, spring rolls, and a dipping sauce!
Ages 6 -12. Space limited to 10.
---
FEBRUARY SPECIAL EVENTS
---
Mr. Gym Concert!
Saturday, February 1 at 3:00 PM
Join us to celebrate Take Your Child to the Library Day with a fun and interactive concert that will have you on your feet!
All ages welcome!
---
Candy Making Workshop
Thursday, February 6 at 6:30 PM
Join Kim, of Kim's Cottage Confections, to make some chocolates – just in time for Valentine's Day!
Grades 3+. Space limited to 15.
---
Read to Rover
Monday, February 24, 6:30 – 8:30 PM
Bring a book and read one-on-one to Jackson, A Certified Therapy Dog!
Email Miss Lauren at lredfield@durhamlibrary.org for a timeslot for a 15 minute session to read to Jackson!
---
MONDAYS
---
Mother Goose Storytime
Mondays at 10:30 AM
Join Miss Diana for stories, songs, and more!
For children birth to age 2.5 years; Siblings welcome!
No need to register; just drop-in.
1/6, 1/13, 1/27, 2/3, 2/10, 2/24, 3/2, 3/9, 3/16, 3/23, 3/30, 4/6.
---
Robo-Mondays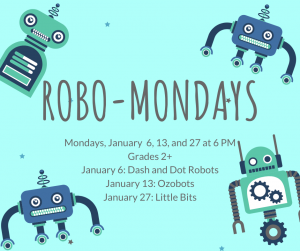 Monday, January 6, 13, and 27 at 6:00 PM
Join us to explore coding and robotics!
Week One: Dash and Dot Robots
Week Two: Ozobots
Week Three: Little Bits
1/6, 1/13, 1/27.
---
Rubik's Cube Club
Mondays, February 3 and 10 at 6:00 PM
Learn to solve Rubik's Cubes and see how many you can do!
All interest and skill levels welcome!
Grades K – 4.
---
TUESDAYS
---
Preschool Storytime
Tuesdays at 10:30 AM
Families with children ages 2.5 and up can join us at the library for developmentally relevant stories, songs, and fingerplays. Siblings welcome! No need to register, just drop-in.
1/14, 1/21, 1/28, 2/4, 2/11, 2/18, 2/25, 3/3, 3/10, 3/17, 3/24, 3/31, 4/7.
---
Camp Crafts
Tuesday, February 18 at 1:00 PM
Join us to make some camp crafts and enjoy a bit of summer in the winter!
Grades K+.
---
WEDNESDAYS
---
Musical Jamboree
Wednesdays, January 15 – 29
Come and explore music and musical instruments! We'll move and explore all the different ways we can make music!
Ages 2.5+
---
No School Matinee: Dora and the Lost City of Gold
Wednesday, February 19 at 2:00 PM
Enjoy Dora's live action adventure! Popcorn included!
---
THURSDAYS
---
Kids Yoga
Thursdays, February 6 – 27 at 10:30 AM
Join Miss Diana to practice some yoga moves! Both children and their adult caretakers will be able to participate.
Ages 2+ with caretaker; Siblings welcome, too!
Register Here. (Registration preferred, but not required.)
---
Cocoa & Crafts
Thursdays in January and February at 6:00 PM
Join us to make crafts and enjoy a cup of hot chocolate!
Grades 3+.
1/9, 1/16, 1/23, 1/30, 2/13, 2/20, 2/27.
---
SATURDAYS
---
Adaptive Stories and Songs
Saturday, February 22 at 11: 00 AM
Storytime with visual supports for children with autism spectrum disorders, sensory integration issues, other developmental disabilities, and their typically developing peers.
If your child has difficulty sitting through one of our other storytimes, this program of stories, songs, and activities might be just what you are looking for!
---
Scavenger Hunts 
A new one each month!
Find all the images hidden in the Children's Department each month. Turn in your completed sheet for a small surprise at the checkout desk. Play as many times as you'd like all month long. Open to all ages with an adult.
---
Our special programs and events are sponsored by PALS — The Public Association of Library Supporters.
---