As part of the Every Child Ready to Read program, the library has  developed circulating "literacy kits" that support early literacy practices.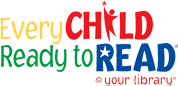 Each kit contains:
2 board books
5 picture books
a music CD
an educational DVD or toy
an idea packet of pre-reading activities that parents and children can do together.
Kits circulate for 3 weeks; there is a $1.00 per day fine for late returns.
Here's a list of available kits. Click the image to enlarge it.